TITAN II MISSILE BASES
MISSILE SITE DISMANTLEMENT
PROPELLANT REMOVAL
ONE OF THE FIRST STEPS OF A MISSILE PULL WAS THE REMOVAL OF THE HIGHLY DANGEROUS PROPELLANTS.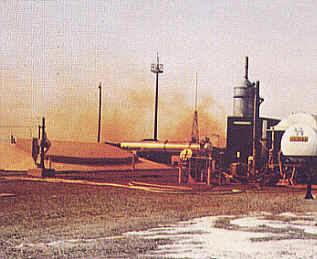 METICULOUS PREPARATION WAS UNDERTAKEN PRIOR TO ANY DOWNLOAD, TO REDUCE THE RISK OF AN ACCIDENT. AFTER ALL SAFETY PRECAUTIONS AND PROPER STEPS HAD BEEN ACCOMPLISHED, THE WING COMMANDER GRANTED PERMISSION TO FLOW. THE PTS TEAM THEN STARTED THE PUMPS WHICH CARRIED THE PROPELLANTS TO THE HOLDING TRAILER. YOU WILL NOTICE THE RED VAPOR BEING AEROZINE 50, THE MISSILES OXIDIZER.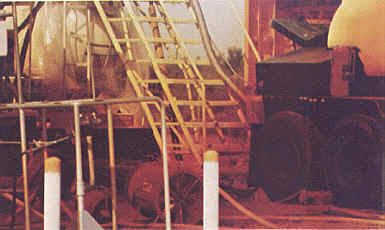 DURING THE TRANSFER OF FUEL AND OXIDIZER TO COMMERCIAL TRAILERS, SMALL PLANNED RELEASES OF PROPELLANTS OCCURRED WHEN HOSES WERE DISCONNECTED.
DURING THOSE OPERATIONS THE CREW WAS RESPONSIBLE FOR MONITORING THE OPERATION AND PERFORMING REQUIRED ACTIONS AS DIRECTED BY THE PTS TEAM
PHOTOS OF CLOTHING WORN WHILE OFFLOADING MISSILE PROPELLANT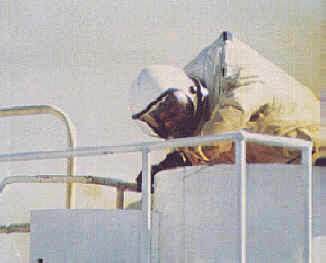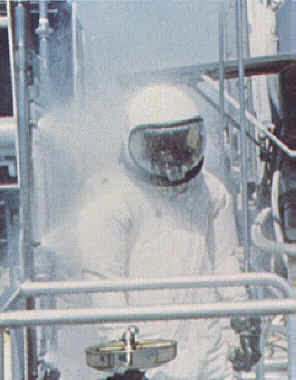 [ HOME ] [ UP ] [ DISMANTELMENT ] [ EXTERIOR ] [ MISSILE ] [ WARHEAD ] [ PROPELLANTS ] [ BLUE PRINTS ] [ DAVIS MONTHAN AFB ]